Survivors: Faces of Life after the Holocaust
Steidl
2020
Essays by Joachim Gauck, Avner Shalev, Kai Diekmann
English
8.6 x 0.8 x 10.8 in
Hardcover, 168 pages
"
...The compelling portraits in this book capture the weathered faces of the people who survived the atrocities of the Holocaust. Martin Schoeller's remarkable photographs allow us to peer into the eyes for traces of the experiences they endured and be inspired by their resilience and strength...
"
–Avner Shalev
︎︎︎ Purchase
︎︎︎ Series
---
Works 1999-2019
Steidl
2020
Foreword by Martin Schoeller
English
9.69 x 0.63 x 11.89 in
Hardcover, 152 pages
"
Looking at portraits is a singular experience, the subjects are on display, offered up for scrutiny and nearly unavoidable judgment, without the chance to stare back. But for the photographer, capturing the image and dictating the terms of the exchange there is a unique responsiblity. Not only will a photographer seize a moment forever, but they'll do so with minimal artificial filtration. And whatever you offer up to the lens will be revealing. Though what, precisely, is being revealed remains a mystery for everyone involved – until the looking, appraising, editing and retouching begins...
"
–
Martin Schoeller
First edition - out of print
---
Close
Steidl
2018
Essay by Martin Schoeller
English
28.45 x 2.29 x 35.56 cm
Hardcover, 136 pages
"...I wanted these images stripped of the signals that typically instruct a viewer to assign more or less value to a face based on the subject's degree of notoriety. I wanted to create a level platform, where a viewer's existing notions of celebrity, values, and honesty are challenged."
–Martin Schoeller
︎︎︎ Purchase
︎︎︎ Series
---
Portraits
teNeues
2014
Foreword by Jeff Koons
English
10.75 x 1.25 x 14 in
Hardcover, 280 pages
"
Building on the success of his previous titles, 'Close Up' and 'Identical,' Martin Schoeller's 'Portraits' is cause for celebration. The illustrious photographer's full range of expression is on display in this unprecedented gathering of editorial images. With an impressive amount of variety and scale, Schoeller shares his signature compositional imagination alongside the wry wit that animates his work. Whether portraits of politcal leaders, Hollywood stars, business entrepeneurs, or contemporary music royalty, these images are as daring as they are exacting, playful, and precise. Regardless of the subject and setting, Schoeller's photographs seemingly come to life. While 'Portraits' will surely thrill devoted fans, it will also attract new admirers with images they've noted in top magazines. Every frame in this expansive volume is touched with Schoeller's distinctive flare for creating meticulously realized worlds – and confirm that he's a talent that consistently resets the limits of photographic portraiture.
" –Jeff Koons
First edition - out of print
︎︎︎ Series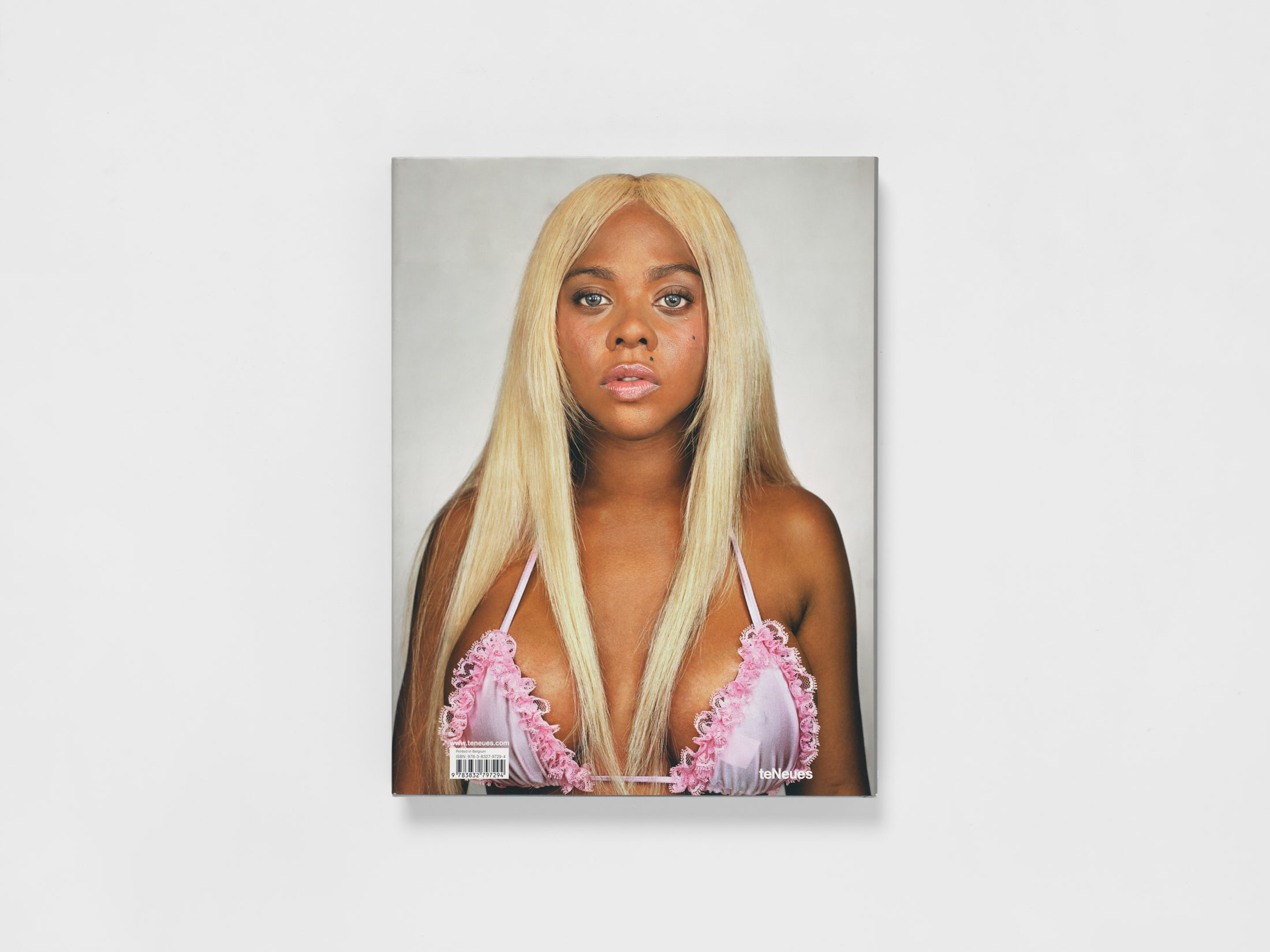 ---
Identical: Portraits of Twins

teNeues
2012


Foreword by Marina Abramović
English, German, French
11.25 x 0.75 x 13.75 in
Hardcover, 132 pages

"...Martin Schoeller is not just another photographer. He is so much more. He takes risks. He is unpredictable. Nobody knows what the next research project is going to be. He is a guerilla warrior on the front lines of portraiture. In this newest work, now he is showing us the universe of the identical phenomena." –Marina Abramović
First edition - out of print
︎︎︎ Series
---
Martin Schoeller
teNeues
2009

Foreword by Tom Jacobi
English
26.67 x 1.27 x 36.83 cm
Hardcover, 96 pages

"Dear Reader, if you want to visit Martin Schoeller in his New York studio, you first have to resist the temptation to call in at Nobu, one of the restaurants run by Nobu Matsuhisa, the world's most successful Japanese chef. It's in the same building. But once you've negotiated this obstacle, everything is so easy because Martin is one of the most likeable people I have ever met in this business. The only thing that intimidates you are the oversized portraits of female bodybuilders he has just hung up on the walls to mark in corrections for an exhibition in Los Angeles. They look down on us threateningly while we sit at this kitchen table and chat about life instead of working on his Portfolio. Munich-born Martin has fought his way through the shark pool that is New York phograophers' scene, has rightly become famous and succeeded the legendeary Richard Avedon at 'The New Yorker.' Martin's photos are always good, but his 'Close Up' portraits are of everlasting value." –Tom Jacobi

First edition - out of print

---
Female Bodybuilders

Pond Press
2008


Photographer's note by Martin Schoeller
English
10.8 x 1 x 13 in
Hardcover, 96 pages

"The women in my book Female Bodybuilders are outsiders. Typical viewers commonly regard them as "freaks," incapable of comprehending why they've gone to the extraordinary lengths required to achieve the unmistakable proportions of the competitive bodybuilder. The commitment levels these athletes demonstrate are as rigorous and demanding as those of any other extreme activity. And, given the public disinterest in their sport, and the practical demands of the lifestyle that makes it possible, there is a purity of purpose that few other serious athletes can match..." –Martin Schoeller
︎︎︎ Email to purchase
︎︎︎ Series
---
Close Up: Portraits, 1998-2005
teNeues
2005
Foreword by David Remnick
English
13.4 x 0.8 x 11.2 in
Hardcover, 112 pages
"
Celebrity is all about surface and saturation, and the 'big heads' of Martin Schoeller push those qualities to the limit. They give the face, the human expression, a new dimension, and that's why we keep looking at them. That's what portraits are for, what they're all about.

It's very hard not to look a long time at these faces, known and unknown, celebrities and ordinary people.
" –David Remnick
First edition - out of print
︎︎︎ Series